Meeting Characters Isn't Always Easy
Welcome to
Tiggerific Tuesday! Blog Hop…or Bounce!
Link up, meet new friends, network with other bloggers, and have fun!
Our Requests:
1. On GFC, Networked Blogs, Twitter or Facebook, please follow both Hosts
and
as well as our Featured Guest Host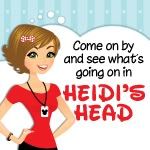 2. Follow who you like and be sure to let them know that you are from "Tiggerific Tuesday! Blog Hop…or Bounce."
3. You are not required to, but we'd greatly appreciate it if you could grab our button and write a post about this hop and/or display the button on your sidebar.
4. Every week we will pick someone to Guest Host the hop with us.If you would like to be considered for the Guest Host position, leave a comment under this post to let me know you're interested and  follow us on GFC.
Tips for Meeting Characters for Children with Autism
Many children suddenly get shy when they finally meet Mickey Mouse, or their favorite Princess. There's a reason I'm in this photo of Beth and Cinderella – Beth wouldn't go near the princesses without me!
For a child with an autism spectrum disorder, it can go beyond simply shyness or overwhelm. Consider this: many kids with autism take the world around them completely literally. They don't pick up on sarcasm or metaphor or jokes. It's all real to them. Then we tell them to walk up to a 6-foot tall mouse (or in this case, baboon) and say hello!
For some kids, characters are terrifying. For others, meeting Mickey Mouse or another favorite character can be the most amazing experience! It depends on the child, but there are also a few things you can do to nudge the experience toward the magical:
Prepare your child. Explain that they will get to meet Mickey Mouse, and help them make the connection between the character at the parks and the image on TV. Explain that they may have to stand in line for a while, because there are many children who all want to see Mickey. Remind them that you will stay by their side the whole time. Role-play the interaction with a favorite stuffed stand-ing.
Clue in the handlers. Every character is escorted by non-costumed cast members. As your child gets to the front of the line, let them know that your child has autism and give them a hint or two about how to best interact with your child. They'll pass the word to Mickey, who will adapt his usual greeting. When we met the characters, we didn't think to do this and yet somehow I think the characters sensed that they needed to slow down with our kids. There must have been a little pixie dust in the air!
Choose your time wisely. If the line to see Mickey Mouse stretches around the corner, you might want to come back later. Ask a cast member when the lines are usually shortest. They're happy to help you make the experience go well! If your child is at his best first thing in the morning, that may be the best time to go, despite the lines. You can use the time in line to reinforce your preparation and talk to your child about how to greet his hero. Communication is often one of the most difficult things for a child with autism, so choose a time when your child isn't tired, hungry, or in sensory overload.
Of course, like everything else you do as a parent or caregiver for a child with autism, you'll need to adapt these tips to your individual child. These are just the tips I've used as a parent and advice I've heard from other parents of kids on the spectrum. What do you do to make character meetings magical for your kids?