Blogging is Contagious!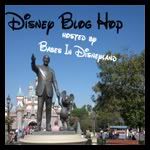 Welcome to everyone stopping by on the Disney Blog Hop sponsored by Babes In Disneyland! This week's theme is bloggers who inspire you, and I realized that I really can't just pick one. Sorry. So I'll mention a few who really stand out for me.
Return to Disney is still just a baby blog, toddling along and not quite sure what it wants to be when it grows up. And for now, that's ok. I'm not an expert on Disney travel, just a mom of a big, crazy family that figured out a few things and is trying to make Disney a yearly tradition. But despite all that, the welcome I've received from the Disney Blogger community has been overwhelming!  The community is what makes Return To Disney my oasis, my happy place, and my Thoughtful Spot on the Web. Thank you!
So – who has inspired me?
Melissa Knight of Disney On Wheels for her support for my attempt to recognize the anonymous cast members at Disney.
Lisa of Babes In Disneyland who was my introduction to the Disney blogger community!
The staff and contributors of Disney Food Blog for making me hungry!
And one more – ok, she doesn't write about Disney, but she is a wonderful blogger and a great friend – the kind who isn't afraid to give you a good shove when you're afraid to take the leap….Shauntelle of A Beautiful Abode.
I know I've missed a few – and I'm adding to my list of Disney blogs to read. Whether you're here from the blog hop, or just happend along, leave your name and blog in the comments, or click the links to the side to follow @ReturnToDisney on Twitter, and check out Return To Disney on Facebook (If you haven't already, click "Like" – only 14 more and I get my very own personalized Facebook URL!)